Addressing challenges with medical device connectivity
The medical devices evolve by following IoT revolution and turn from stand alone to connected and integrated with healthcare IT systems.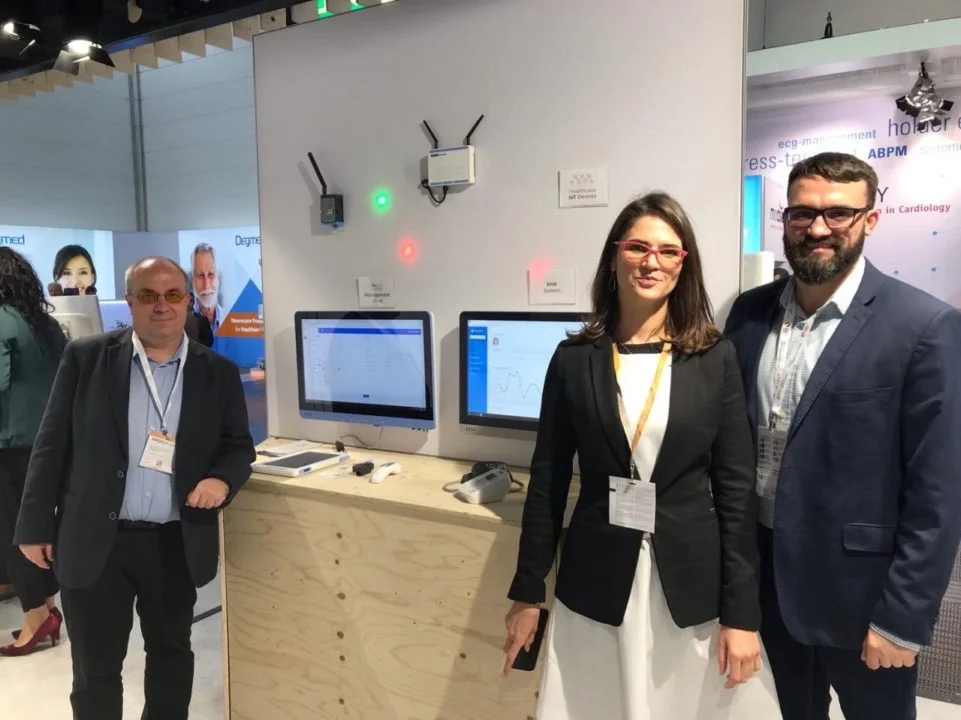 Successful device manufacturers must put their effort not only on innovating in the area of healthcare values and increasing treatment efficiency but also on providing seamless integration with larger, consolidated healthcare IT systems. This requires connectivity – and connectivity requires security and interoperability. Security to protect patient data and interoperability to provide integration between various systems responsible for holding and analyzing patient data. Developing secure and robust connectivity system for medical devices and its integration with healthcare IT requires a specific domain expertise. Building these competences, in many cases requires significant financial outlays and takes time.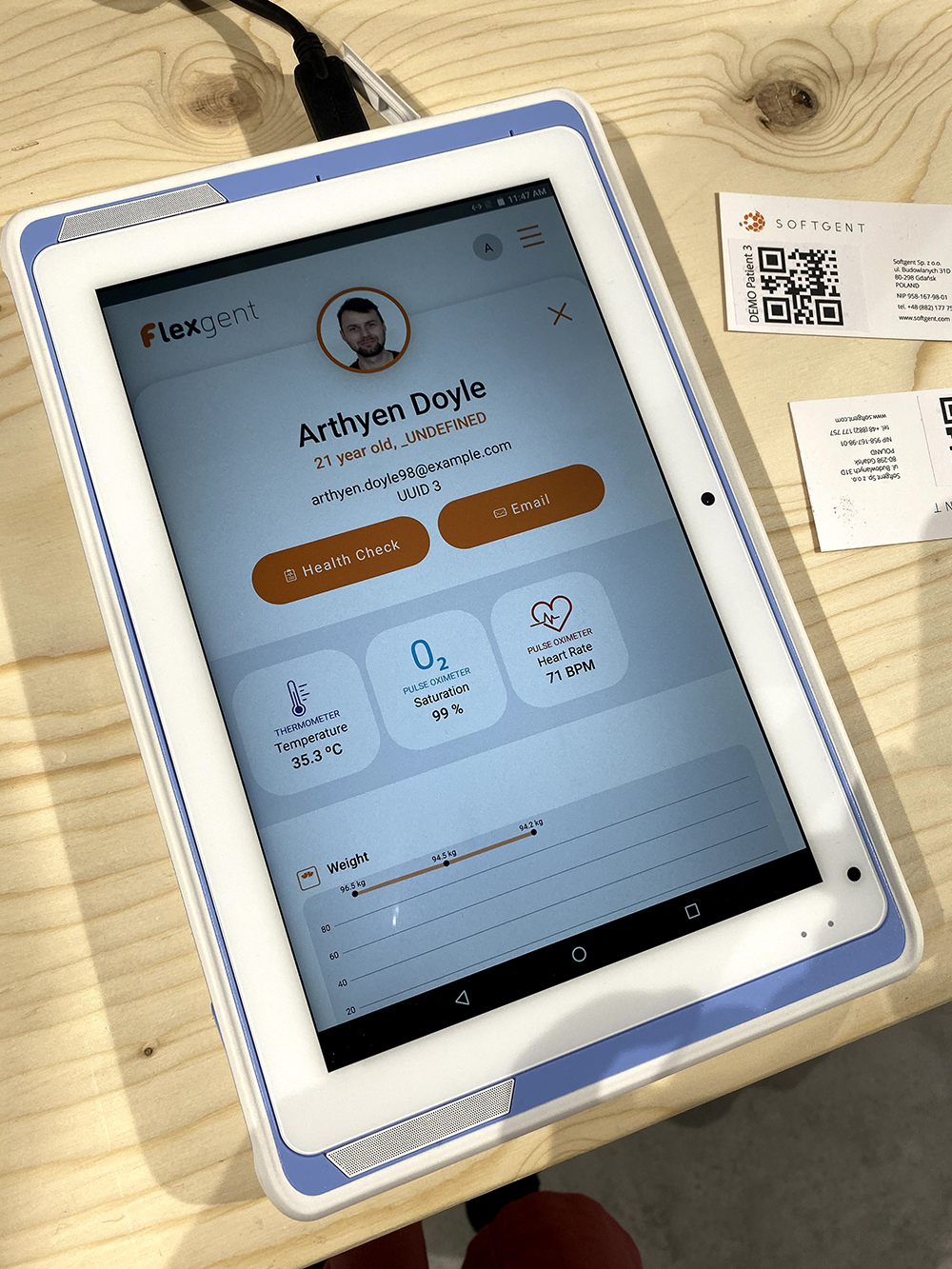 During #MEDICA2019 back in the week of November 18th Softgent had a chance to present healthcare IoT connectivity demo and demonstrate our approach to medical IoT device management. To highlight its flexibility, it is named FLEXGENT. We have selected several standard, off the shelf, healthcare IoT devices broadly available on the market that provide vital sign sensing capabilities and BTLE connectivity. Medical data collected by these devices were assigned with Patient's Electronic Health Record and each measurement attempt has been recorded eliminating potential write/copy types of human errors.
Our mobile tablet application allows to select EHR patient for each measurement demonstrating standard nurse workflow. All that is possible thanks to our IoT gateway software with implemented BTLE characteristic and HL7 support. It's microservice architecture allows us very quickly add support to any type of medical device. Besides medical data plane we have added set of gateway functions supported by dedicated cloud application that takes medical device management to the next level. Imagine one platform where all your hospital devices, their statuses, custom defined characteristic based performance policies, could be monitored. Our IoT management platform gives your set of tools that help drastically eliminate medical device downtime and increase operation efficiency.
Softgnet's Flexgent provides light weight hardware agnostic micro-services engine software that is a foundation for IoT devices and connectivity management. One of the key engine features is its flexibility. Creating a Phyton based micro service application is sufficient to add new, smart features to IoT gateways. For the sake of this use case we have created a micro service utilizing our AI framework that provides image classification for video streams. Our application uses pre-trained neural network to analyze frames in the stream object detection. Only upon detecting the specified object the microservice sends frames to the cloud for further processing that might require more hardware resources not available at the edge.
Flexgent also provides set of core functions such as micro services life cycle management and telemetry used for IoT device and gateway monitoring.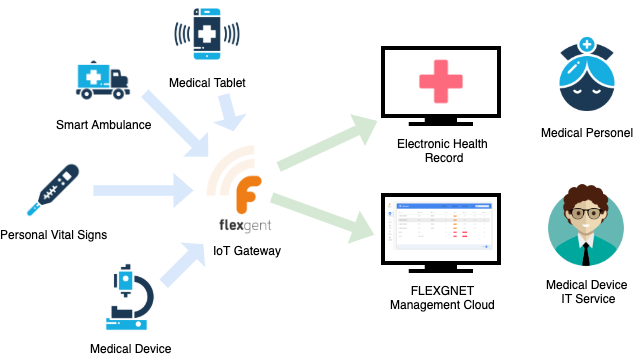 While presenting our solution at #MEDICA2019 trade fair we had a lot of interesting conversations with many fantastic medical device manufacturers. They bring a lot of innovations in diagnosis and treatment efficiency. Many of them already started looking into connectivity to address market needs. The challenges they have expressed regarding connectivity could be closed in the following bullet points:
Connectivity is not necessary an expertise domain for medical device manufacturers and developing know how and experience takes a lot of time and money.
Device management and preventive maintenance are key to efficiency and market success, but device specific approach is not always very well received by hospital IT responsible for device service.
Softgent's FLEXGENT solution is a right medicine for these challenges. We help device manufacturers connect their devices to medical systems such as EHR, DICOM etc. As a part of the solution we also provide cloud based medical device management platform.
Now, instead of spending significant budgets or missing market window for your connected medical device, you can work with SOFTGENT to get your device instantly connected. Not only connected. You can also provide your customer easy way to manage and maintain your device assuring market leading operation up times.
Without the Shield Box, 5G testing is out of the question — Niche technologies based on 5G are becoming increasingly common....
Read More